Contact Us For a FREE Quote by Tampa Bay Safety Surfacing

Safety surfacing is a necessary process, especially when the surface is hard, rough, slippery, or displaces with time. It's because normal surfaces, as mentioned, cause great damage as they fail to absorb the impact of the person when he hits the ground. However, if safety surfacing is done, the chances of getting injured are significantly reduced. Our company helps individuals across the country in installing the best safety surfacing materials on a range of flooring types. Who are we? Well, read along to know who we are.
Who are we? 
We're Tampa Bay Safety Surfacing – a full-service safety surfacing company in Florida. Our company helps install a range of safety surfacing materials that reduce the risk of injuries and improve the aesthetic appeal of the place.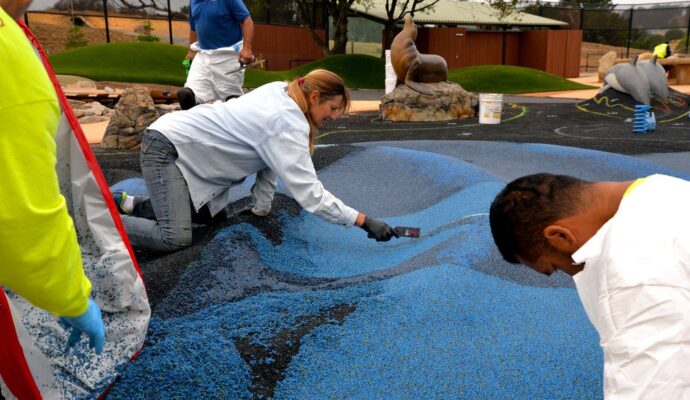 What services do we offer? 
Safety Surfacing Services: We install safety surfacing materials on playgrounds, parks, gyms, etc. so that it offers safety and looks beautiful.
Poured-In-Place Rubber: PIP rubber combines virgin and recycled rubber, which forms a granulated mixture meant for safety-focused flooring. PIP rubber is available in several colors allowing you to form patterns and can be installed in parks, playgrounds, gardens, residential areas, etc.
Bonded Rubber: Bonded rubber is a substitute for poured rubber and is more durable, resilient, and effective than its counterpart. It can be easily installed over any surface that you can imagine.
Rubber Tiles: Rubber tiles are a beautiful safety surfacing solution. It's a square-shaped material that can be modified at your convenience. It requires less maintenance and stays there for long.
Synthetic Grass: It's an artificial safety surfacing material made from synthetic fibers and is mostly used in residential lawns, playgrounds, parks, gardens, etc. It looks natural and requires no maintenance.
Synthetic Turf: It's the better version of synthetic grass but is used in professional sports fields or complexes. It's because synthetic turf is finer and is smoother than synthetic grass.
Bonded Rubber Mulch: The bonded rubber mulch has numerous uses and looks like wood or asphalt mulch. However, bonded rubber mulch is softer and has more shock-absorbing capabilities.
EPDM Rubber: EPDM rubber is a complete yet safe compound that offers protection and is very aesthetic. It is available in different colors and is mainly suited for school playgrounds and parks.
Why Choose us
Tampa Bay Safety Surfacing has been in the safety surfacing industry for quite a long time. And ever since, we have installed thousands of sq. feet of safety surfacing material all across the country. Our safety surfacing services are quite affordable and come with a warranty/guarantee. So, you're protected from all sides. Also, we make sure to use safe products only. So, connect with us now!
---
Contact Us 
Tampa Bay Safety Surfacing is a reliable safety surfacing company in Florida and the entire country. Our services are quite extensive, and so is our safety surfacing team. All of our team members are experienced, skilled, and have the right knowledge required to install the safety surfacing material in the best manner. So, wherever you are within the country, contact our professionals now if you need the best safety surfacing.
Below is our list of additional services: